Our History
Written by Andrew Franklin
In October 2019 a group of about 40 Christians arrived in Israel to spend ten days together, treading in the footsteps of the ancient Biblical saints. I was one of them with my friend and Pastor Gearoid Marley www.alconburybaptist.org even though I lived 100 miles away from his Church in West Mersea, Colchester.  I knew no one else in the group.
After a couple of days Gearoid asked me if I knew that there was someone else from Colchester in the group, a brother named Sam Jameson. I didn't know, but after introducing myself to him I discovered that he also was there with his Pastor, Jonathan Vandenhurk and he too was travelling a 100 miles to Peterborough to www.calvarybaptistchurch.org.uk Immediately the thought came to my mind, 'out of the mouth of two or three witnesses' and I determined I would keep in touch with Sam, because I sensed the unseen hand of the Lord in that situation.
On our return Pastor Gearoid, who had previously been suggesting that I should consider becoming involved in starting a new Church in Colchester, to which I was very much opposed, organised a lunch in early January 2020, with a friend of his Pastor Derrick Morlan of www.cchtrust.org.uk and on seeing and hearing what God was doing, not just in Oxford but in other places around the UK, I invited Derrick to come to Colchester in late February 2020.
We had a great time as Sam and I showed Derrick, and his two deacons at Oxford Baptist Chapel, around Colchester.
As a result we organised our first Bible Study which was a great success and with much enthusiasm organised for these to become weekly events. But the very next week Covid struck,  we were unable to meet and these stopped.
Over those summer months, it seemed as though one door was closing after another, but I can honestly say that we were saying and believing that God would open the right door.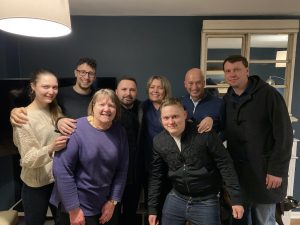 Then in October Sam went to stay with a friend in London and on the Sunday went to Downham Baptist Church downhambaptist.org where in conversation with the Pastor Travis Snode, Travis mentioned that he believed the Lord was leading him to plant a third Church in the UK, either in Kent or in Essex. Travis and his wife Teri, like Derrick, are also graduates of Crown College (Tennessee) thecrowncollege.edu and so we invited Travis to Colchester.
At that first meeting we immediately sensed the Lord's leading and we promptly restarted the Bible Studies with Travis leading us. Initially this was via zoom but when the lockdown was temporarily lifted and we could meet up in person we started to look for a place to meet. 
In March 2020 I had visited a small chapel in Maldon Road, Colchester with a view to renting it then, but over that summer the trustees, churchgrowth.org had rented it out. I approached them and they very kindly put me in touch with the new tenant, and so we were put in touch with the tenant John Mccarthy.
We held our first service there on 25th April 2021 which was in effect our soft launch, and with visitors we welcomed 52 people which was a great beginning.
As I write in mid-July 2021, we have moved location and are now very excited to have our own premises, Headgate House. 
One verse that has become very pertinent to us, especially in light of our new location is Matthew 16 v18, where Jesus promises, 'I will build my Church and the gates of hell shall not prevail against it'.